PayPal Verified Seller
Email me for buying information.
Welcome to Lorelilee Creations!
Handcrafted one-of-a-kind jewelry-because your jewelry should be as special as you!
The below items were created by request for the Las Vegas Philharmonic Silent Auction to take place at the Venetian Hotel on Saturday April 12, 2008. For more details on the pieces, see the Custom Pieces page.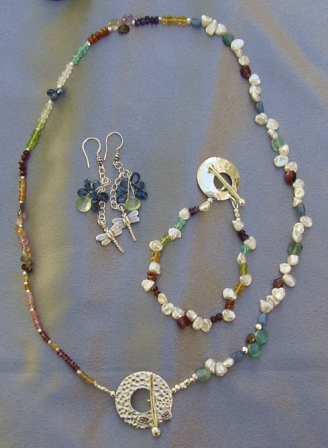 Unique jewelry includes exotic gemstones, unusual freshwater pearls, and lots of unusual semi-precious stones. Each piece is handmade with the best quality findings and materials. No two pieces are alike, because no two people are--I truly believe your jewelry should be as special and unique as you are!
PDF Catalog with wholesale pricing for stores available via e-mail. All price shown on the site are retail and do not include volume discounts.
Please e-mail me if you have any questions. New items go up all the time, so check often! If you want to be the first to know what's new, receive special offers or discounts, sign up for my newsletter.
If you like what you see, please sign my guestbook.